Hello, hello! How was your weekend? Mine wasn't long enough. Well, here is this week's menu.
Monday:
Bacon Pot Roast
via Frugal Antics of a Harried Homemaker. Yeah, you read that right. Bacon. Mmmm. I'll let you know how this one turns out. I mean, it has to be good. It has bacon. Served with mashed yukon gold potatoes and carrots.
Frugal Antics of a Harried Homemaker
Tuesday: Southern Fried Tilapia served with a side salad and baked french fries. I don't use a recipe, I just cut the tilapia up in chunks and coat it in a homemade flour/cornmeal mixture and pan fry it. I'll try to remember to write down the recipe as I make it.
Wednesday: Taco Salad. Romaine lettuce, cheddar cheese, black olives, tomatoes, green oinions, sour cream, roasted corn and seasoned ground beef.
Thursday: Cheesy scrambled eggs, blueberry pancakes and bacon.
Friday:
Poppy Seed Chicken
via Sew Caroline, served with rice and broccoli. I am gonna try to make this a "clean" recipe by making my own cream of chicken soup and crackers. This recipe is still full of fat, so even though we love, love, love it, I shouldn't make it very often.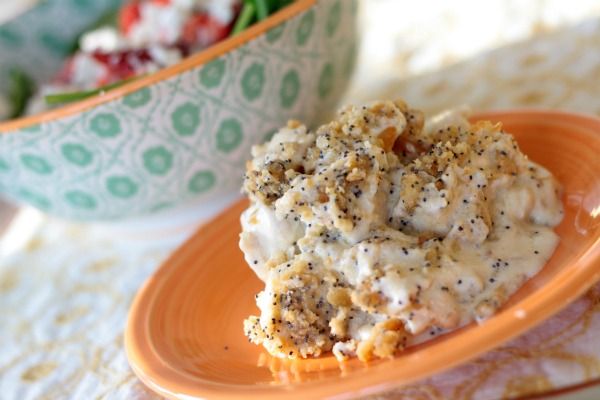 Sew Caroline
What are you cooking up this week?
Thanks for stopping by,
Natosha
Linking up here: